AIAG Core Tool Support (CTS)™ Software
Did you know that up to 90% of all FMEA and Control Plan spreadsheets have errors in them? These mistakes not only cost time and money but can damage the reputation of companies using them with their customers.
That's why AIAG, in partnership with FCA, Ford, GM, Honda, Nissan, Toyota and the rest of the AIAG Board of Directors developed the Core Tools Support™ (CTS) software – a cloud-based solution for authoring and managing FMEA, Control Plan and PPAP documents.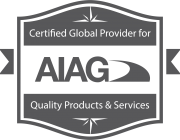 Plexus International is the certified global provider of CTS.
The AIAG Core Tools Support™ (CTS) Software is available for purchase in Simplified Chinese through Plexus China, as well as in Spanish through Plexus Mexico.
AIAG核心工具支持(CTS)™ 软件目前在中国有售
¡Ahora disponible en español!