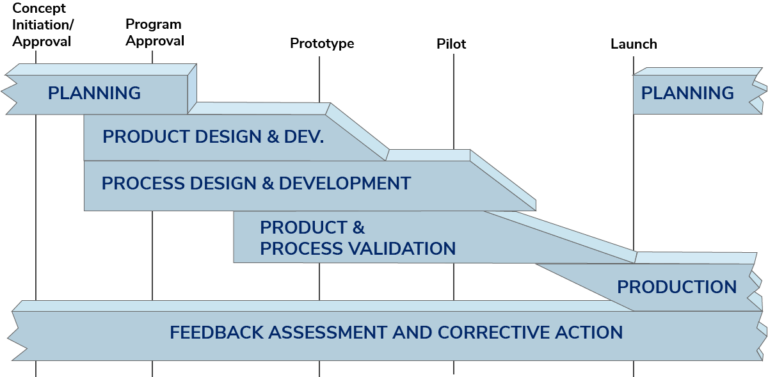 Subscribe to Our Newsletter.
What is Advanced Product Quality Planning (APQP)?
Advanced Product Quality Planning (APQP) is a structured method to define and establish the necessary steps required to meet all Customer Specific Requirements (CSRs) in any new launch or product planning process. The APQP process serves as a guide in the product development process, and a standard way to share results between organizations and their customers.*
As a supplier, your customer may require that you implement APQP to implement and maintain their Customer Specific Requirements either through a contractual agreement or other means of communication. If there is not a direct requirement from the customer, suppliers may choose to use the AIAG APQP guideline as best practice within the automotive industry.
Where does APQP come from?
In the early 1980's, Ford published the first handbook to formally address APQP guidelines for suppliers, with Chrysler and GM following suit and developing their own standards for the method. Years later the three OEMs recognized the need for a single APQP guideline and in 1994 released the AIAG APQP Manual with intention of ensuring all organizations within the automotive supply chain will produce a quality plan to support in the development of a product or service that will satisfy the customer and their requirements.
Today, this practice is used across industries and has been developed as the preferred method to facilitate communication between the supply chain and organization or customer.
The 5 Phases of APQP
There are 5 phases within the APQP process, each phase happening simultaneously with at least one other while giving output in each phase for input for the next one (see figure 1):
Phase 1 – Plan and Define Program
Phase 2 – Product Design and Development Verification
Phase 3 – Process Design and Development Verification
Phase 4 – Product and Process Validation
Phase 5 – Feedback Assessment and Corrective Action
Plexus International designs, develops, and delivers internationally accredited, industry-recognized training programs for the global manufacturing supply chain with one critical goal: real performance improvement. For more information on APQP or to learn more browse our related trainings.
Sources:
*IATF 16949:2019. 3.1 Terms and definitions for the automotive industry – advanced product quality planning (APQP)