AIAG Advanced Geometric Dimensioning and Tolerancing (GD&T)
Apply and interpret the concepts and benefits of specifying and dimensioning products using functional quotation, tolerance of form, and position.
In this two-day training participants will construct a clear understanding of the existing paradox within the industry: "Why is this part characteristic non-conforming to the specification but the part mounts still function well in the product?" or "Why is the part within the specification, but doesn't mount or work properly with the customer?"
Throughout the course, each participant will have conditions to interpret and dimensions to specify using functional quotation and tolerances of form and position.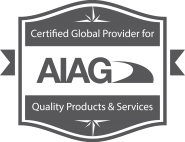 Course Details
---
Knowledge of reading and interpretation of basic drawing (drawing on sights and cuts).
Learning Objectives
Identify the structure and intent of ASME Y14.5 2009
Apply the symbology attached to the 2009 version
Apply the advanced concepts to the activities provided
Apply the technique to new prints
Who Should Attend
Personnel from areas of product engineering, industrial engineering, and other quality personnel
Quality and layout personnel and support staff who must communicate with engineering and manufacturing, as well as laboratory technicians who must perform gauging to layouts
Agenda
Day 1
AM
Introduction and Overview
General Review Concepts
Applying GD&T to drawings
Standard changes and additions
Changes to Features
Changed Symbology
New Symbols for Frames
PM
Datum
Datum Construction and Interpretation Applications
Datum Types/Components/Modifiers
Day 2
AM
Tolerance of Form w/ Applications
Tolerance of Orientation
Tolerance of Profile w/ Applications
Tolerance of Runout w/ Applications
Tolerance of Location w/ Applications
PM
Tolerance of Location Continued
Fixed and Floating Fasteners
Print Applications and Interpretation