AIAG Basic Geometric Dimensioning and Tolerancing (GD&T)
This one-day Live Virtual Workshop is an overview of the GD&T concepts in controls necessary for proper layout and applications. The course will cover typical issues that can occur when applying a traditional coordinate system and how Geometric Tolerance can overcome them. You will be introduced to the symbols, terminology and the rules for GD&T based on ASME Y14.5:2009.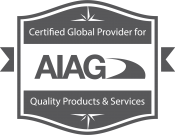 Course Details
---
---
Equipment Needed:
Desktop or laptop computer
A broadband wired or wireless (3G or 4G/LTE) internet connection
Speakers and a microphone that are either built-in, USB plug-in, or wireless Bluetooth.
A built-in or a USB plug-in webcam or HD webcam
---
A second monitor is highly recommended for optimal learning environment.
Learning Objectives
Apply the principles of GD&T Characteristics to your layout process
Demonstrate an understanding of Dimensioning Tolerance principles
Reduce the number of errors by developing a system of effective dimensional tolerance
Apply the following Controls:

Form
Orientation
Location
Runout
Profile
Who Should Attend
This Live Virtual Workshop is recommended for quality and layout personnel and support staff who must communicate with engineering and manufacturing, as well laboratory technicians who must perform gauging to layouts.
Course Outline
Part 1: Introduction
Part 2: Application of Appropriate Symbols
Features
Feature of Size (FOS)
Actual Local Size
Actual Mating Envelope (AME) of an External Feature of a Size
Maximum Material Condition (MMC)
Least Material Condition (LMC)
Tolerance
Basic Dimension
Part 3: Application of the Rules
Part 4: Datums and Features
Primary Datum Features
Secondary Datum Features
Feature Control Frame
Part 5: Major Concepts
Dimensioning and Tolerancing
Primary Datum
Secondary Datum
Tertiary Datum
Orientation Tolerances: Perpendicularity, Angularity, Parallelism,
Part 6: Applications with Case Studies
Delivery Details
Combining the best of online and traditional face-to-face learning, Live Virtual Workshops use web-based teleconferencing technologies to bring your team together with our experienced instructors in an interactive learning environment. We have always believed interactivity, application, and group discussion are critical parts of an effective and sustainable learning experience. To ensure that these values hold true, and every participant can build the same caliber of knowledge, each workshop includes the following Live Virtual functionality and features:
Trainers & Moderators: For every session, both trainers and moderators will be present and accessible to ensure optimal interaction for each participant, upholding the intimacy of a face-to-face training. Participants can use chat and "raise hand" features, speak directly to trainers, moderators, and other participants, and share their screen all in real-time.
Exercises & Break-out Rooms: Throughout the session, participants will be assigned to teams and split into team breakout rooms to privately complete group activities and discussions, then return to the larger group to present. There will also be quizzes (polls) throughout to measure knowledge retention throughout the units.
Digital Learning Package & Shipped Materials: Depending on the course, participants may be mailed a hardcopy of the Participant Training Book and/or receive a digital learning package complete with training handouts, case studies, digital workbooks, and a virtual platform user-guide.
Technical Support & Resources: On-Demand New to Live Virtual Training and Consulting technology? We've prepared resources and user guides to help you navigate the Zoom Live Virtual conferencing technology and will have live support on-hand just in case you need a little extra help. We'll also allow you to join the session 30 minutes earlier and a moderator will guide you in experiencing the key functionalities and features used in the virtual platform.