Flow Down of Special Characteristics into the Operational Document Sequence
 Read on to learn more about the flow down to special characteristics through what we call the operational document sequence. 
Some things to remember from our previous videos:  
Design Failure Mode Effective Analysis (DFMEA)
Deals in critical Functionality and gives functionality to the print
Print
Where Special Characteristics are housed
Process Flow Diagram
The origin point for Special Characteristics flow

ing

down in operational documents

Distributes Special Characteristics into the stations that create them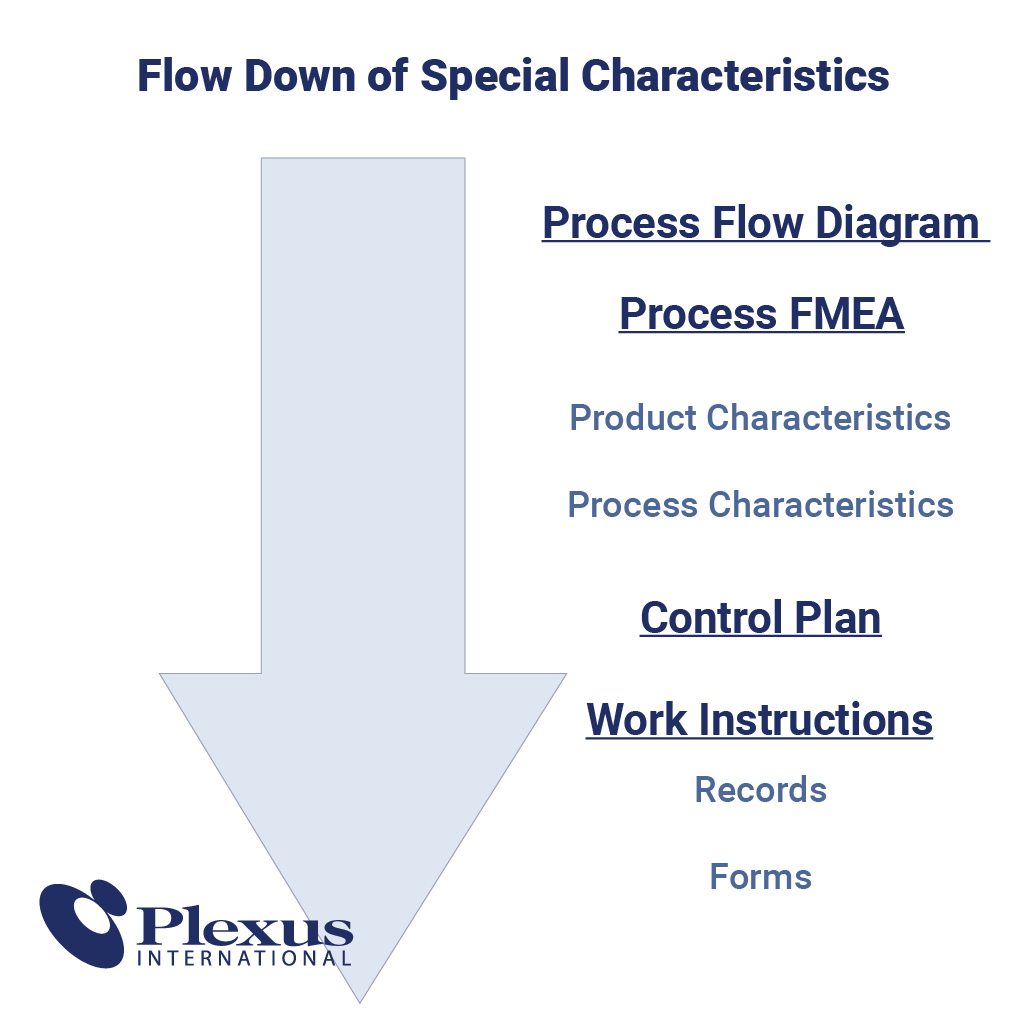 Let's say you have an identifier and it's formed at operation 30, and it is important*. You should have the symbology that indicates that on operation 30. 
From this point the operational flow goes from the Process Flow Diagram down to the Process Failure Mode Effective Analysis (PFMEA). Here at the Process FMEA the identifier is captured as a characteristic and assigned to a product (Product Characteristic) or process (Process Characteristic.)  These Characteristics can now be considered important* and are sent down through to the Control Plan. 
Once these product and process characteristics are in the Control Plan, the level of control executed against those special characteristics is then flowed down into that special characteristics' column on the Control Plan.  
To go a little further let's say that one of the controls is a work instruction. This means the symbology that goes with that characteristic must flow down to there as well.  
The operational documents flow is a process beginning all the way back at the Design FMEA and depending on where that special characteristic travels, it can follow all the way into your work instructions including the records and forms that accompany it. 
Therefore, the special characteristics need to be abundantly apparent when it comes to flow down in operational documents since there are so many facets and places for it to be miscommunicated, especially when it comes to something as non-specific as a special* characteristic.  
If you liked what you learned here make sure to check out our other material on Special Characteristics on our blog, or contact us to learn more about team workshop availability. 
*Refers to Special, Critical, or Important Characteristics 
**Note: These do not need to be called "special characteristics" other nomenclature can be: key characteristics, critical characteristics, or regulatory characteristics. In the video above Jeremy references them as "special" or "important." 
Stay Ahead of the Curve
Subscribe to our newsletter.